MINOR CAR ACCIDENT CLAIMS: HOW TO HANDLE A FENDER BENDER
What Are Fender Benders
"Fender benders" are minor vehicular collisions that typically result in little to no damage to the vehicles involved. These types of accidents may occur in parking lots, at intersections, or in other low-speed driving scenarios. They can involve one or multiple vehicles, but the damage is usually limited to cosmetic dents or scratches on the fenders or bumpers. Although fender benders are considered minor accidents, they can still be costly to repair and may result in increased insurance premiums for those involved. Drivers should always exercise caution and practice safe driving habits to avoid these types of accidents.
The term fender bender is usually used to refer to a minor car accident. They typically happen while travelling at low speeds, and can be a head-on, T-bone, or rear-end accident. Generally speaking, an auto accident is considered to be minor when it results in minor to no injuries and vehicle damage valued at $500 or less.
Small fender bende happen every day. Here is what is important to know for financial protection after a fender-bender.
The skilled car accident team at Dennis and King has protected the rights of countless victims of fender bender accidents, ensuring that they have access to the compensation they deserve. Although most fender benders only result in vehicle damages and minor to no injuries, victims may still be entitled to compensation. Vehicle repair costs can be expensive, even for seemingly-minor damages.
With luck, any collision experienced is minor. Fender-benders are the most common car accidents, usually involving vehicle damages and no reported injuries.
Even minor accidents are stressful and inconvenient. Knowing what to do after a fender-bender will save time, money, and further aggravation.
The question is "how much do fender benders cost?". If you have been involved in a fender bender collision, it's in your best interest to seek legal counsel. You may not need to hire an attorney, but considering that most car accident lawyers offer a free initial consultation, taking them up on that offer is a win-win. Your injury attorney will evaluate your case to determine if pursuing compensation makes sense, and advise you about how to proceed.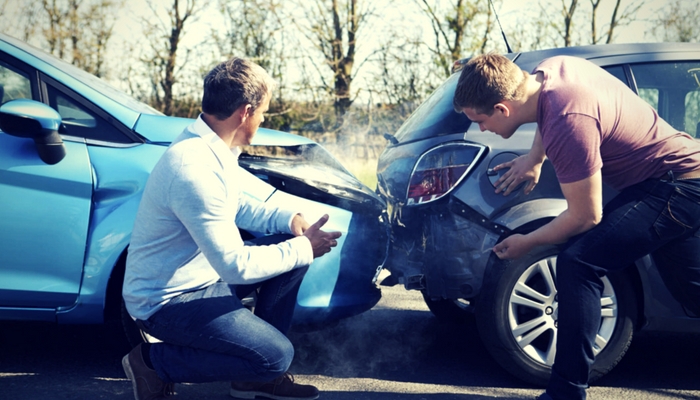 COMMON FENDER BENDER INJURIES IN TENNESSEE
Although most fender benders result in only minor injuries, certain serious injuries, such as internal bleeding and soft-tissue damage, may not produce symptoms for days, or even weeks. As such, it is important to seek immediate medical attention, even if you don't think you've been seriously injured. Some of the most common fender bender injuries include:
Whiplash
Bruises
Cuts and lacerations
Soft-tissue damage
Injuries to the back and neck
Bone fractures
Internal bleeding
Traumatic brain injury (TBI)
PROTECT ONESELF AFTER A SMALL CAR ACCIDENT
Minor accidents tend to occur at low speed and cause very little damage to vehicles—generally less than five-hundred dollars worth of damage. Causes include:
Drivers backing out of parking spaces or driveways
Slippery roads from weather conditions
Distracted drivers
Rear-end collisions in slow-moving traffic
What to Do After a Fender-Bender
Even a minor car collision can cause one to be stunned, even if physical ramifications are not experienced. In a minor collision, there is a good chance no one is hurt. While this is a positive, the situation can still be inconvenient and annoying. Consequently, additional trouble can be avoided by staying calm and taking control of the situation.
Safety First: Unless already in a safe place, like a parking lot, begin by moving the car involved in the collision out of the traffic lane and putting on the emergency flashers.
Look for the other car involved in the collision. Note the color, make and model, and the license plate number, just in case the other driver flees the scene.
Call 911: Even if it appears that the accident only caused a tiny dent, call the police. This is a critical part of the process. Do not allow the other driver to dissuade calling the of police or the involvement of insurance companies. You don't want to find yourself in a minor fender bender no police report.
Provide the dispatcher with the location of the accident. If injuries have possibly occurred, ask for medical help. Tell the dispatcher if there are any dangers, like leaking fuel, or if the accident is blocking traffic.
Regardless of who caused the accident, the insurance company needs to be notified. Georgia and Tennessee require drivers to notify the policy anytime the vehicle damage is more than five-hundred dollars. Since most people are not good at instantly judging vehicle damage, it is best to always call the police.
Medical Care: Do not refuse medical care at the scene. One could be seriously injured and not realize it. Shock and anger can mask symptoms. Do not tell anyone you are "fine" or "just shaken up."
If a hospital visit does not immediately occur, see a doctor as soon as possible. If such a visit does not occur the same day, then have it occur at the very least the next day. If one does not have a family doctor, then immediately go to the emergency room.
Injuries are often not felt immediately. The effects of whiplash, sprains, and strains are often not felt until hours or even days after a collision.
Delays often allow insurance companies to argue that the collision did not cause the injuries. Insurance companies love denying claims because the injured person delayed their medical treatment.
What is Said and Done Can Be Used To One's Detriment
Tempers must be kept under control and going off on the other driver is never helpful. It is absolutely pointless to yell at the other driver. Abusive language or threatening behavior can negatively influence witnesses and hurt insurance claims. Somebody is always taking out their smart-phone and taping scenes of people losing their cool. Staying calm does not denote weakness. Instead, it means one is in control of the situation.
If the other driver becomes confrontational and begins shouting abusive language, stay in the car with the windows closed. Immediately call the police and tell the dispatcher that the other driver is displaying threatening behavior. If possible, stay on the phone with the dispatcher so she or he can know what is occurring. If unable to stay on the phone with the dispatcher, use the phone to record a video of the driver's outburst.
Be careful regarding what is said. Regardless of fault, do not apologize. This is not the time for excuses as to why the accident might have happened, such as "I didn't see you". The other driver can use apologies for their own benefit and as proof, the accident is not their fault.
EVIDENCE SUPPORTS INSURANCE CLAIMS
Driver Information: Whether the police or security personnel are on the scene or not, make sure insurance and contact information must be exchanged with the other driver. If the police allow it, write down the driver's full name, contact information, and the name and telephone number of the driver's insurance company.
Vehicle Information: Write down the other vehicle's color, make, model and year. Write down the car's license plate number, and a description of the damages you can see.
Photographs and Videos: Use a camera or cell phone to take photographs and videos of the accident scene, the cars, and the point of impact. If any beer cans or other open bottles of alcohol are visible, photograph them. If the police or security personnel respond, be sure to bring it to their attention.
If the driver takes a field sobriety test, photograph or video the test as it happens unless the police forbid such filming.
Look for Witnesses: Even though it is a minor car accident, witness statements are good evidence of the other driver's fault. Witness testimony helps the insurance company if someone from the other car comes back with claims of exaggerated injuries.
Ask witnesses to write down their contact information and a brief statement of what they saw. Have them sign and date their written statement.
Police Report: When the police come to an accident, they immediately secure the scene, check for injuries, and manage traffic issues.
In most cases, an officer will investigate the crash and prepare an accident report. The accident report includes information on the drivers and passengers, a diagram of the scene, citations issued, insurance information and the officer's opinion of fault.
Insurance adjusters give great weight to police reports. A copy of the accident report should be available within a week of the accident.
Incident Report: Many fender-benders occur in parking lots. Large shopping centers and malls may have security guards who will write up an incident report. While it will not have the weight of a police report, a copy of the incident report will at least prove the date and location of the accident.
DEALING WITH THE INSURANCE COMPANIES
Minor car accidents typically cause little dents and dings to your car. If no serious injuries are suffered, one might believe there is no point in involving the insurance company and that doing so might lead to increased insurance rates. Keep in mind that if the other party is found at fault, the law explicitly forbids insurance companies from raising the innocent party's rates or dropping them from the policy.
Why the Insurance Company Should be Notified
Regardless of fault, the insurance company needs to be notified. Most insurance policies require such notification.
Nearly every Georgia and Tennessee auto insurance policy contains a "notification and cooperation" clause. The clause means one agrees to tell the insurance company about any and all accidents and agree to cooperate with their investigation of the accident.
The notification clause looks something like this:
"Insured (you) agrees to notify the insurer (your insurance company) of any accidents and thereafter comply with all information, assistance, and cooperation which the insurer reasonably requests, and agrees that in the event of a claim the insurer and the insured will do nothing that shall prejudice the insurer's position. . ."
The insurance company needs to hear about the accident from the insured. If someone from the other car hires a lawyer, the lawyer will contact the insurance company with a demand for money. Insurance companies are put at a huge disadvantage if they are not told by the insured about crashes immediately.
Georgia and Tennessee law imposes a duty on insurance companies to defend their insured if someone from the other car files a lawsuit. This protection can be lost if the insured violates the notice clause.
If an insurance policy includes something called "med-pay," this coverage can then be used to pay medical bills—but usually, only up to five thousand dollars in charges.
To repair a damaged car, collision coverage can be utilized. A deductible may need to be paid if collision coverage is used. If fault regarding the collision lies with the other driver, a claim can then be made against the other driver's insurance company.
Filing a Claim With the At-Fault Driver's Insurance Company
After a minor car accident that is not one's fault, the at-fault driver should pay for vehicle repairs. To start this process, a property damage claim needs to be filed with the at-fault driver's insurance company.
Contact the other driver's insurance company and get a claim number. This number will be used in any future discussions with the insurance company. The insurance company will assign an adjuster to your case, who will work with you throughout the claims process.
The insurance company will want proof of the other driver's fault in the accident. The circumstances of the accident and the evidence you have gathered, including the official police report, should be enough to convince the claims adjuster to accept the claim.
Unless there is a serious dispute over who caused the accident, the claims adjuster should quickly resolve your property damage claim.
In Tennessee and Georgia, one has the right to ask for:
A rental car while the damaged vehicle is in the shop
Repairs to be made with Original Equipment Manufacturers (OEM) parts
Compensation for personal property lost in the crash, like broken glasses or the groceries destroyed in the trunk.
When An Attorney Is Needed
If the car's damage is less than $1000, most minor car accident claims can be dealt with the insurance company directly, and without the need for an attorney. An attorney is not needed in order to get a car repaired.
If complete recovery has occurred from soft-tissue injuries such as bruises or muscle sprains within a week of the accident, total together with the cost of medical bills and lost wages. Add one or two times that amount for pain and suffering in order to arrive at the expected compensation.
Minor car accidents typically happen at low speed, with low impact, and do not cause major injuries. However, sometimes serious, hard injuries happen.
If hard injuries such as spinal injuries, neck & back injuries (such as whiplash), nerve damage, or head or brain injuries have occurred, even in a low-impact collision, an experienced personal injury attorney will be needed to receive fair compensation.
Insurance companies are only interested in profit, and not one's pain and suffering. They would rather spend money on an expert who says one cannot get hurt at that speed rather than provide compensation for a life-changing injury.
One does not have to settle for less. Find out what a skilled personal injury attorney can provide.
CONTACT DENNIS AND KING TODAY
If you've been involved in a fender bender accident, the skilled legal team at Dennis and King can help. Insurance companies are notorious for low-balling accident victims in their time of need. The legal team at Dennis and King knows how to help you get the maximum compensation available so that you can heal and get on with your life. Visit our website today to schedule a free and confidential consultation about your case.
GET THE MOST MONEY FOR YOUR CLAIM—LEARN HOW MUCH MONEY YOU CAN GET WITH A FREE CASE REVIEW FROM ONE OF OUR ATTORNEYS AND ASK ABOUT OUR 25% DISCOUNT ATTORNEY FEE
CALL (423) 892-5533 or book online now